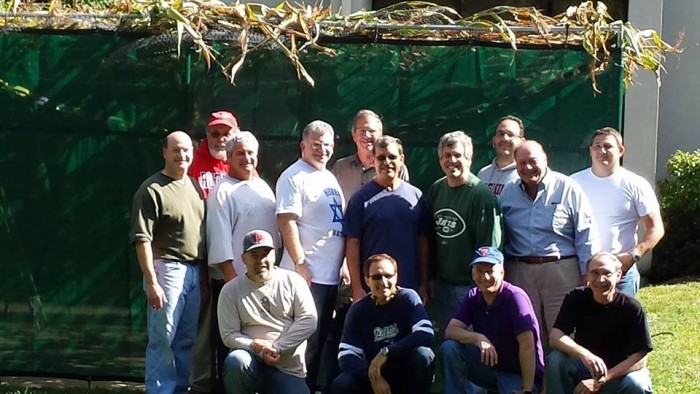 Men's Club
Each year, on the first Sunday morning after Yom Kippur, the MRT Men's Club builds the Sukkah (and takes it down two weeks later). As long as there is coffee and donuts, there is always great energy and joy in accomplishing this Mitzvah for MRT.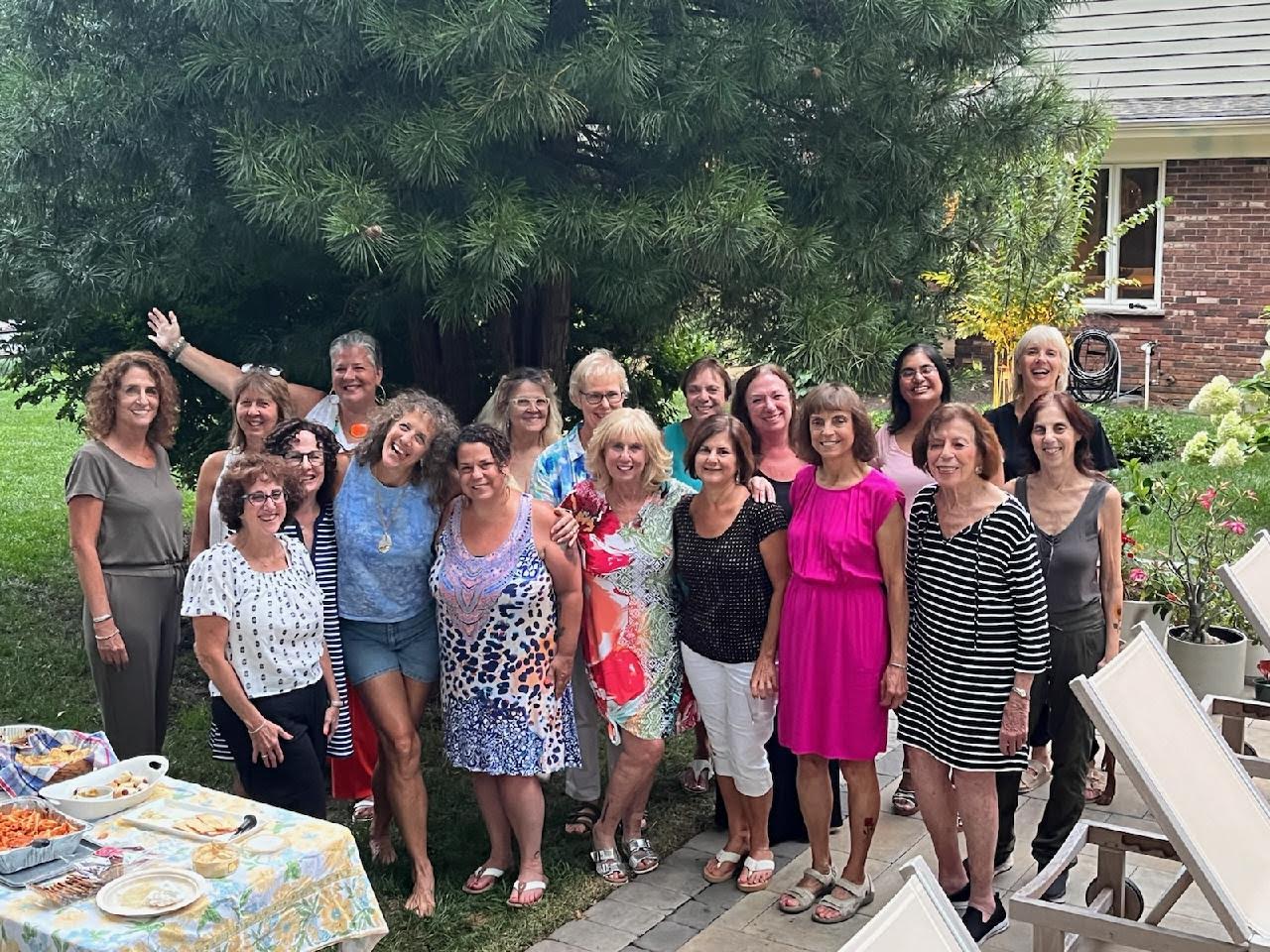 Sisterhood
A Sisterhood Pool Party – what a refreshing idea! These women along with other Sisterhood members participate in a variety of social, service, and fund-raising activities, deepening their connections to one another and to Judaism.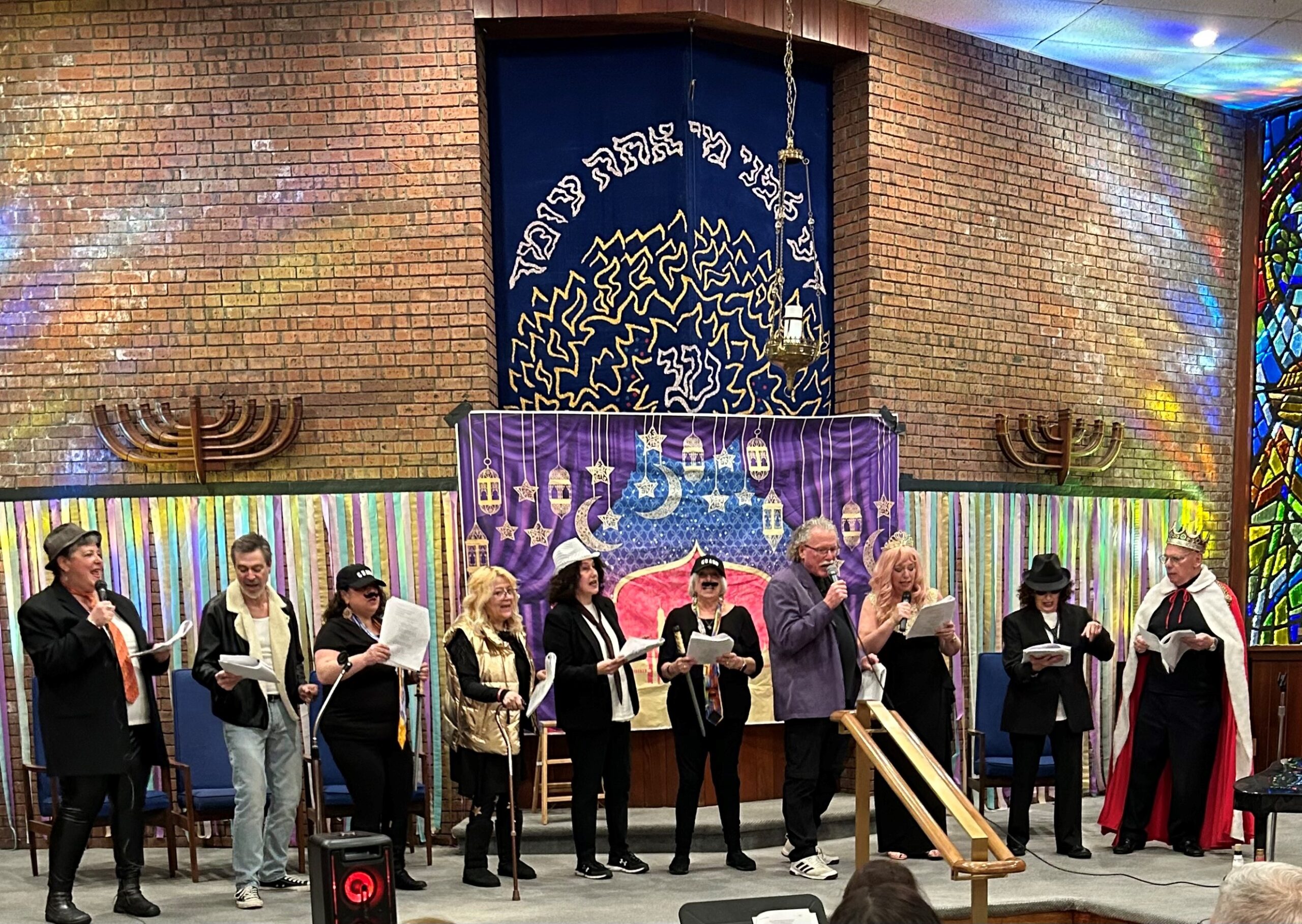 Purimspiel 2023
As an annual tradition, MRT's Not Quite Ready for Prime Time Players entertain the Congregation on a Saturday Night followed by a scrumptious dinner catered by world-famous Harold's Deli. This year the cast performed "A Billy Joel Purim"!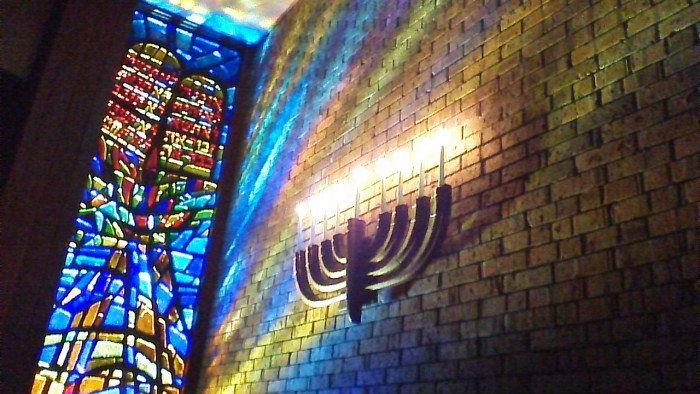 Worship
MRT Congregants and guests worship in a variety of ways and locations. In the sanctuary, on the beach, outside in our Memorial Garden, among others.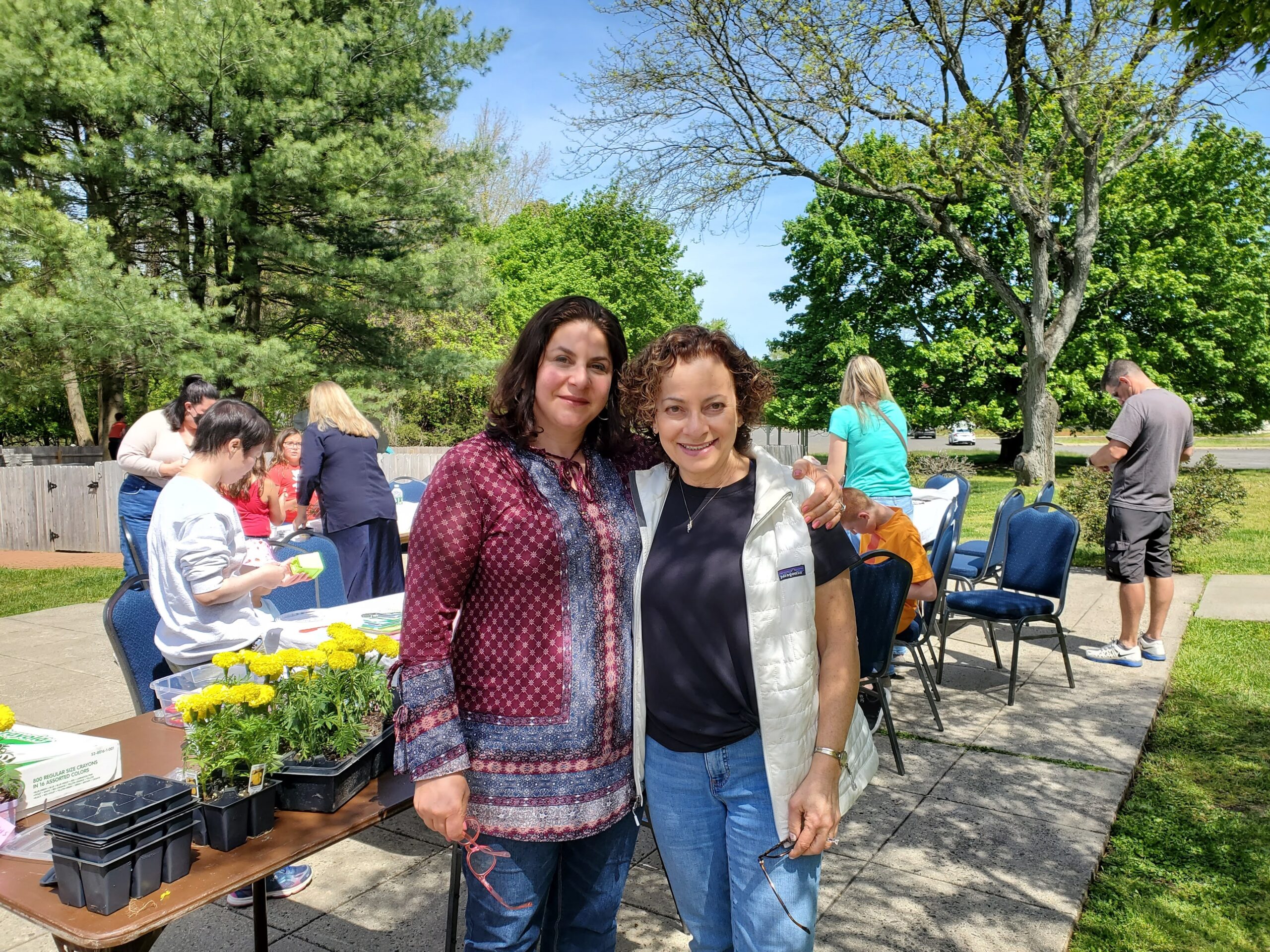 Mitzvah Day 2023
Cantor Gabrielle Clissold and Director of Education Magda Reyes enjoy a quiet moment in MRT's beautiful patio after leading one the many Mitzvah Day projects.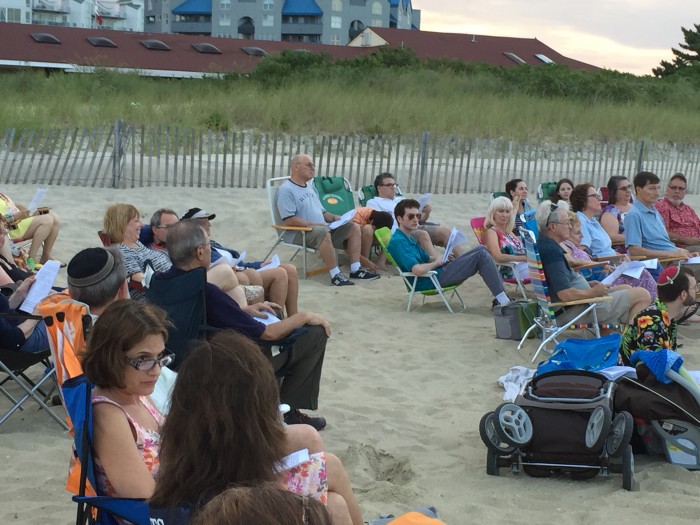 Welcoming Community
As a close-knit community, MRT Congregants and guests share enjoyable times together even outside the synagogue walls, such as a Shabbat service on the beach!
Shabbat Services are 7 p.m. Fridays except for First Friday Family Services at 6 p.m.
Our High Holy Day services were in person with excellent attendance
All services are livestreamed (except for our Visual Worship services and summer Beach Shabbat)
We have a full slate of adult education and other programming. Check our packed calendar for details!
We look forward to seeing you!
Socialize with Us!
Our Men's Club and Sisterhood provide many opportunities to meet with other congregants. Sisterhood-sponsored events provide something for everyone. There are monthly book clubs and speakers, Supper in the Sukkah, the Purim Party, as well as the wonderful Apple Cake & Honey and Sh'lach Manot fundraisers. The Men's Club meets monthly followed by a friendly game of poker. They excel in the kitchen serving up a great "Tail-gate Party" at the Monday night Minyan and Football or serving a gourmet Home-cooked Breakfast on Mother's Day.
Worship With Us!
Every Friday night is special at Monmouth Reform Temple. Our services, led by Rabbi Renee Edelman and Cantor Gabrielle Clissold, are spiritually uplifting and filled with joyful music. And for worshipping at home, we have prepared a wonderful Holiday Handbook! And now, you can enjoy Live Streaming of our services!
Learn With Us!
We offer innovative classroom experiences for Kindergarten through 7th grade, Mitzvah Academy for 8th and 9th grade, and Confirmation classes with the Rabbi for 10th grade and beyond. Meeting days and times can be found in the Youth Learning section of our website (K – 6th, 7 – 9th, and Confirmation).
Our enriching  Adult Jewish Learning program provides various forums for learning. The annual Shabbat Kallah and Scholar-in-Residence weekends always feature a timely topic by a celebrated lecturer.  More informal opportunities occur with our Saturday morning Torah Study group and – from time to time – a Tuesday morning study group on various topics.
Special Note
There are members of our Congregation who are very sensitive to scents. MRT strives to provide a "Scent Free" environment in our building.  The MRT community asks that you avoid wearing scents of any kind when coming to our facility and we ask you to tell your guests who visit with us. Thank you for being our partner in creating a "Scent-Free" environment.