During the past 5+ months MRT's Congregants have maintained a strong virtual connection to each other, our Clergy, and our amazing live-streamed services. However, we also are aware of the significant interest in re-opening our building. We are working hard to balance this interest with the continued need for safety. For now, our High Holy Day services will be live-streamed in the same way as our Shabbat Services. However, in addition to the Clergy, those congregants being honored for their leadership and volunteerism will be permitted to attend selected services in-person. Read our Covid-19 HHD Services Policy and our Covid-19 Precautions Summary.  All participants will be required to fill in a Screening Questionnaire and a Statement of Understanding Form.
Religious School will be starting on October 4 per a detailed safety-conscious plan which will be communicated to the parents.
MRT Welcomes You and your Families to the New Year and the High Holy Days! Click below for a wonderful Shofar Greeting Video!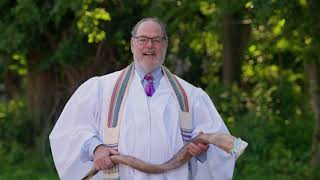 Join our High Holy Services virtually  through MRT's Live Streaming as follows:
Selichot Saturday Evening September 12   Service at 7:00 pm,  Zoom Study at 7:45 pm
Erev Rosh Hashanah Friday Evening September 18 at 7:45 pm
Rosh Hashanah Saturday September 19

10:00 am: Morning Service
1:30 pm: Outdoor Walk to Tashlich
3:00 pm:  Children/Family Service

Kol Nidre Sunday Evening September 27 at 7:45 pm
Yom Kippur Monday September 28

10:00 am: Morning Service
2:00 pm: Children/Family Service
4:45 pm: Yizkor Service
5:30 pm: Neilah Service
Socialize with Us!
Our Men's Club and Sisterhood provide many opportunities to meet with other congregants. Sisterhood-sponsored events provide something for everyone. There are monthly book clubs and speakers, Supper in the Sukkah, the Purim Party, as well as the wonderful Apple Cake & Honey and Sh'lach Manot fundraisers. The Men's Club meets monthly followed by a friendly game of poker. They excel in the kitchen serving up a great "Tail-gate Party" at the Monday night Minyan and Football or serving a gourmet Home-cooked Breakfast on Mother's Day.
Worship With Us!
Every Friday night is special at Monmouth Reform Temple. Our services, led by Rabbi Marc Kline and Cantor Gabrielle Clissold, are spiritually uplifting and filled with joyful music. And for worshiping at home, we have prepared a wonderful Holiday Handbook! And now, you can enjoy Live Streaming of our services!
Learn With Us!
We offer innovative classroom experiences for Kindergarten through 7th grade, Mitzvah Academy for 8th and 9th grade, and Confirmation classes with the Rabbi for 10th grade and beyond. Meeting days and times can be found in the Youth Learning section of our website (K – 6th, 7 – 9th, and Confirmation).
Our enriching  Adult Jewish Learning program provides various forums for learning. The annual Shabbat Kallah/Scholar-in-Residence weekend always features a timely topic by a celebrated lecturer. More informal yet very popular Tuesday morning Study Group with the Rabbi is currently in session.
Special Note
There are members of our Congregation who are very sensitive to scents. MRT strives to provide a "Scent Free" environment in our building.  The MRT community asks that you avoid wearing scents of any kind when coming to our facility and we ask you to tell your guests who visit with us. Thank you for being our partner in creating a "Scent-Free" environment.