Our History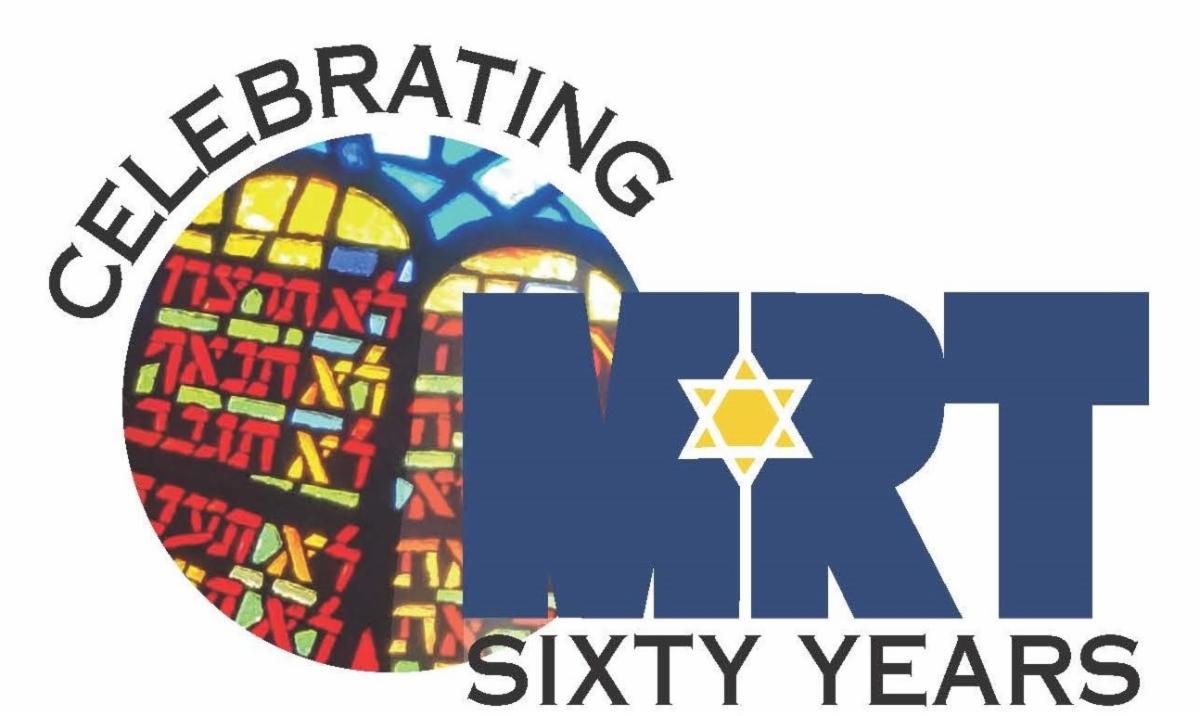 MRT's 60th Anniversary History Document
Sixty years ago, a group of 29 families in the Red Bank area came together to start their own Reform Jewish Congregation. That congregation, the Monmouth Reform Temple (MRT), has grown to over 325 families and maintains a packed calendar of programs and activities for its members' worship, education and socialization. This includes its important tradition of "tikkun olam"– community service to "repair the world" in making it a better place.
Click here to read the entire document!
---
MRT's Official History Document
Contributed and Updated by: Rabbi Sally J. Priesand – November, 2014
In early 1959, about 29 families discussed forming the first Reform Jewish congregation to
serve the area around Red Bank, New Jersey. In June of that year, 50 families attended a
dinner celebrating the founding of Monmouth Reform Temple.
Click Here to read the entire document!
---
Newspaper Article Commemorating MRT's 50th Anniversary!
With neighbor's help, temple thrives for 50 years
(From New Jersey Jewish News, October 5, 2009)
October 5, 2009
Fifty years ago, Monmouth Reform Temple was founded to create a community that embraced the ideals of Reform Judaism: a house of learning, a house of worship, a house of assembly, and a membership with a strong commitment to tikun olam.
There was definitely a touch of irony as temple life began, recalled some of the founding members; from September 1959 until March 1967, the home of the temple, now located in Tinton Falls, was the Presbyterian Church at Shrewsbury.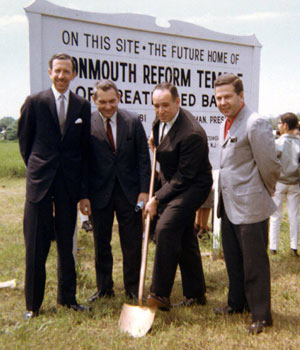 Now, as the temple prepares to celebrate its 50th anniversary with a series of special events during October and November, congregants and clergy are taking a trip down memory lane. It's a journey that has encompassed a few historic events along the way, including the 25-year tenure of Rabbi Sally J. Priesand, the country's first female rabbi.
Priesand retired in June 2006 and continues to serve as MRT's rabbi emerita; the temple's current religious leader is Rabbi Jonathan Roos, who succeeded Priesand.
The congregation had its genesis during the late 1950s. At the time, the nearest Reform synagogue, Temple Beth Miriam, was in Elberon.
On March 20, 1959, 22 families met in a Rumson home to form the steering committee for the new congregation. By April 30, the Monmouth Reform Temple, with 32 member families, secured its seal and charter from the Union of American Hebrew Congregations (now the Union for Reform Judaism).
The first religious service was held at the Women's Club in Red Bank.
"It was on Friday, April 17, 1959, with Rabbi Herbert Brichto, dean of the UAHC as guest rabbi," recalled Barbara Goldstein of Tinton Falls, who, along with her husband, Albert, was among the temple's founding members (both also serve on the anniversary committee).
That May, the church offered MRT the use of its sanctuary and school building for services and classes. UAHC loaned the new temple a portable ark and Torah scroll. Sabbath services began under the leadership Rabbi Henry Bamberger, then a student rabbi at UAHC in New York.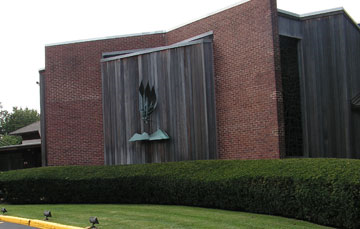 "For the next seven years, we converted the church hall to a synagogue each Friday," said Albert Goldstein, who served as building committee chair and is a former temple president. "We removed the Christological symbols and installed Judaic ones, and reversed the process when we left for the evening."
The friendship between the two houses of worship endures. A joint Thanksgiving service alternates between the temple and the church each year, and a plaque in the MRT lobby pays homage to the church's generosity during the temple's formative years.
In 1964, as temple membership continued to grow, fund-raising began for a permanent home. The temple purchased a vacant 10-acre tract for about $3,000 per acre on Hance Avenue in New Shrewsbury (now Tinton Falls), and on May 29, 1966, a ground-breaking ceremony took place.
The first Shabbat service in the new building was held in late 1966 — in a cold, damp, unfinished classroom. The completed sanctuary was dedicated in April 1967, and by the late 1960s, under the religious leadership of Rabbi Richard Steinbrink, MRT's membership stood at more than 160 families.
The congregation now consists of 330 member families, approximately 40 percent of them interfaith.
"This anniversary celebration reflects how the temple continues to be a strong force in the community for Jewish worship, social action, and comfort," said congregation president Mark Gruensfelder of Tinton Falls. "It reflects the hard work of the founders and the temple's ongoing commitment to the ideals of Judaism."
He and his wife, Beverly, who is a religious school teacher at MRT, and their two sons have been members since 1992.
"It's a fulfilling experience for all of us," Gruensfelder said. "There is a sense of family and continuity here, and everyone seems to feel it. It's genuine."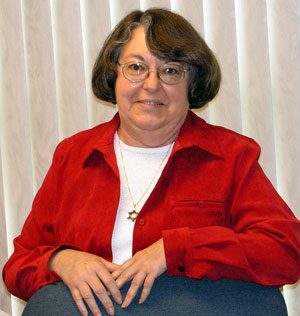 In addition to Bamberger, Steinbrink, Priesand, and Roos, Rabbis Edward Ellenbogen (deceased), Harry Sherer, and Alton Winters also served as religious leaders at MRT. Several are expected to attend a 50th anniversary Shabbat and oneg on Friday, Oct. 23, at 7:45 p.m. A video montage is being prepared by temple member Lisa Calderwood, the anniversary committee has compiled a memory book, and students are contributing memories and mementos to a time capsule.
An informal social gathering at the temple on Saturday, Nov. 21, will close out the 2009 anniversary celebration with music, refreshments, and recollections of how a small group of Reform Jewish families built a temple that has continued to thrive for 50 years.
---
'One mitzvah at a time'
Changes have occurred over the past 50 years, but the importance of family and feelings of inclusion among members of Monmouth Reform Temple in Tinton Falls has remained constant.
"The sense of family here is very strong," said board member and publicity chair Margie Wold of Colts Neck. "Members of all age groups, lay leaders, and clergy were eager to share some of the thoughts and experiences they have amassed in the past 50 years."
For Cantor Gabrielle Clissold, who has been with MRT since 2002, the temple's family-like atmosphere adds joy to her cantorial tasks.
"We experience Jewish music on every level — we hear it, learn it, and sing it," said Clissold. "Our greatest challenge is to keep Jews affiliated," she said, "but we're a healthy, strong, creative temple, and we'll be part of the new generation."
That new generation will continue to promote a dynamic spiritual life, said Rabbi Jonathan Roos.
"I believe that Jewish traditions and spirituality stand at the core of a congregation's mission," he said, "and my aim is to provide an inspirational, passionate, and confident pulpit presence for all services and occasions.
"It's important that our youth develop a steadfast commitment to, and love for, Judaism," he said. "Part of that effort involves supporting and guiding parents with family education programs and providing other opportunities for families to enhance their Jewish heritage together. As this temple begins its next 50 years, I hope to be a rabbinic leader who brings holiness, respect, self-awareness, and love of Judaism into everything I do."
His predecessor at MRT was Rabbi Sally J. Priesand, the country's first ordained female rabbi.
"Fifty years is a speck in the timeline of Jewish history, but in the life of a congregation, it is definitely something to celebrate," said Priesand, who lives in Ocean Township. "During that time, we have fashioned a temple family, provided a Jewish presence in our community, created positive Jewish memories for our children and grandchildren, and studied Torah together in hopes of discovering what God would have us do and be.
"We've always tried to grow Jewishly, one mitzva at a time," Priesand said, and "we take pride in knowing that what we do contributes to the survival of the Jewish people."
— JILL HUBER
---
The Beginning of our Endowment for the Future
As the Temple approached its 50th Anniversary we decided to establish an endowment fund and named it the Rabbi Sally J. Priesand Endowment Fund for The Future.  It provides needed funding to ensure our continuing presence in the community.  Click here to see a short video that explains the goals of this endowment.
---