Ellen Rubinstein, Adult Education Committee Chair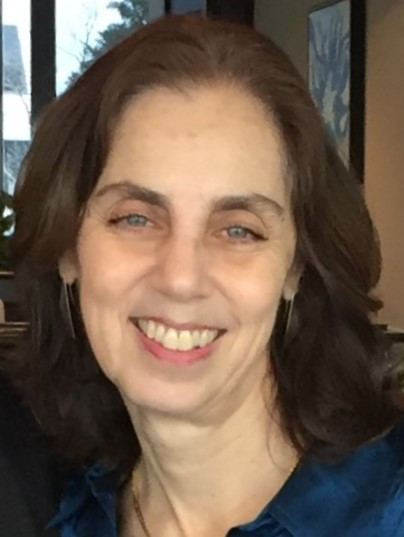 Ellen Rubinstein grew up on Long Island, attending a Conservative synagogue where she became a Bat Mitzvah and was confirmed. Through college years, she returned home to celebrate Jewish holidays with family, as she earned degrees in English Literature, Chemistry, then Materials Engineering.
After a few years in industry, she and her husband Ernest Guenzburger moved to Holmdel NJ, twenty-eight years ago. Once they had two young children, Sarah and Sam, they were encouraged by a neighbor to look into Monmouth Reform Temple's toddler program, run by Adaya Henis. It was the warmth and spirit they felt there that drew them to join MRT, once the children were of elementary school age.
At that time, with the encouragement of then-principal David Levinsky, Ellen began to teach a Jewish Literature class to 7th graders in the Religious School. She taught at MRT for eight years. She was also a Chemistry teacher in public school, and eventually stopped teaching at MRT due to the demands of full-time work and family. Ellen has also taught Math at Brookdale Community College, Chemistry at Monmouth University, and is currently in her fifth year as an adjunct professor of Chemistry at Kean University.
Both Sarah and Sam made friends during their years of Religious School, and both were confirmed at MRT. They also enjoyed the Junior and Senior Youth Groups, both serving on the MRTSY Board, Sarah as president during her senior year. Ernest has been a member of the Arts and Deco committee for many years. His woodshop has created several custom pieces for the sanctuary and the front lobby. Ellen, Ernest, and Sam enjoy participating in the MRT choir. Sam plays keyboard in the Shir Chadash band on First Fridays, and occasionally accompanies at other times.
Ellen is pleased to contribute to the Board and to help enrich the MRT community by bringing interesting and inspiring programs to temple members.