Jill Austin, Sisterhood Co-President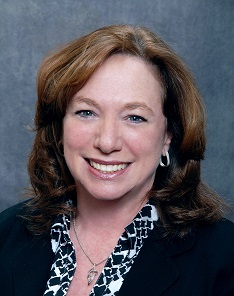 Jill may be the youngest oldest member of Monmouth Reform Temple. She joined MRT as a 5 year old in the mid 60's after her family, the Bakers (Jerry and Peg), relocated to Colts Neck from Boston. She was Bat Mitzvah'ed and Confirmed at MRT and rejoined in 2000 when her oldest son, Alex, was just 1.
Many people know Jill as a real estate agent, but her background is actually in Marketing and Management Information Systems in which she has a degree from Boston University. If you have or had a Timex watch with a Disney character displayed on the face (Remember those?), you are the beneficiary of a licensing agreement that Jill championed with Disney when she worked as a Product Manager for Timex. Working for Timex, Jill ventured regularly to Hong Kong, the Philippines, and the annual Watch Fair in Basel, Switzerland.
Jill competed on her Marlboro High School tennis team and continues to avidly play the game in a women's doubles league and with a group of senior men. She is also quite musical having played the flute and piano and dabbling in temple choir for the joint Thanksgiving celebration with the Presbyterian church.
While Jill is probably best loved for her fun loving, bubbly personality and her fondness for dancing and getting a little crazy, she actually feels she is an introvert who has anxiety in new situations. But regardless, Jill is up for just about anything.
Like most parents, Jill is most proud of her awesome children, Alex and Alyssa, who just get more amazing every day. And like most of our MRT Community, Jill loves the warmth of the MRT family, the many friendships she has developed here, and the comfort of just being able to be herself.
Reach out to Jill to experience her spirit and join in some of the social and service activities sponsored by the MRT Sisterhood.
By Zach Gilstein