Mark Kroen, Men's Club President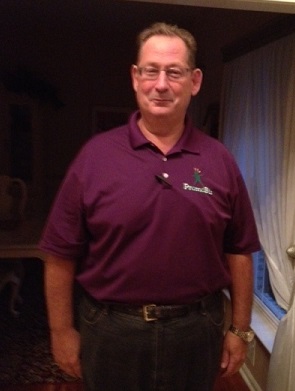 Mark, tell me about your family. Rosanne and I have a blended family of 5 children and are thrilled to be celebrating Adam's upcoming Bar Mitzvah with our family, friends and Temple family.
Where were you born and where did you attend school? I was born in Jersey City in Margaret Hague Hospital , grew up and attended public schools in North Bergen NJ and gradated from East Brunswick High School. I attended University of Dayton, Ohio and graduated with a dual major in Bio-engineering and Chemistry and received my MBA from Fordham University at Lincoln Center.
What is your profession? I started my company in February, 2015, called Office BIZ, which is a distributor of office products, print and promotional.
That's a long way from bio-engineering and chemistry. My professional career started as Sales Engineer selling chemical process equipment, and then selling high tech sterilization and depyrogenation equipment to the pharmaceutical, healthcare and medical research facilities. I moved on selling equipment to the power industry when Enron forced me to make a serious career change. That got me involved with office products.
What's fun about being President of Men's Club? I wouldn't call it fun yet, as I am still finding my way as to the real role of the Men's Club within MRT. I am associated with a terrific group of men who lend constant support so we can fulfill the needs and worthy causes in which MRT is involved . I do enjoy the challenge the Men's Club offers. Personally, I feel I have found an extended family, and I have thoroughly enjoyed the male bonding that has come from the experience so far, and just being associated with MRT has allowed Rosanne and me to make new friends.
What books have you read lately? I mostly read periodicals rather than books, such as National Geographic and Cooking magazines or anything that might grab my interest. I enjoy knowledge I gain from reading such material.
Do you cook? Yes. I do most of the cooking at home and like experimenting with food and introducing new tastes to my family. My favorite recipe is a French Leg of Lamb but nobody likes it so I haven't had the need to make it. One food I have introduced and was received quite well is Oxtail Stew. Almost everyone in the family seems to enjoy it. It is delicious!
What was the most fun you had as a kid? Playing outdoor sports with friends and just being outdoors. Kids don't do that anymore. Though we didn't belong to a Temple, I played on the Temple youth basketball team and was pretty good.
What did you hate most about school? I needed to transfer to East Brunswick High School in my Junior year and I was bullied the first few weeks until I stood up to the individuals. Gaining acceptance in a new environment was difficult and I was miserable. I buried myself in studies and did quite well. I really don't condone fighting. I find it unpleasant, but sometimes you have to stand your ground and fight for your rights. I tell the younger boys at home that they should let no one bully them and that it is often just a matter of standing up to the bully. My high school experience is one reason why we are members of MRT. Both Rosanne and I feel that MRT fosters an incredibly embracing and welcoming atmosphere where one can assimilate quite readily into a new community.
Who was the greatest influence in your life? My mother.
If you could invite 3 famous people for dinner who would they be? Moses, Jesus and Abraham Lincoln.
What would you serve? Kosher oxtail stew.
Would you like to add anything else? I love my wife and my blended family and my extended Jewish family.
Thank you, Mark!
By Eleanor Rubin